Termites Gone In 6 weeks Or We Work For Free Until It Is!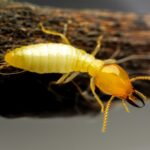 HANDLING YOUR TERMITE INFESTATION TREATMENT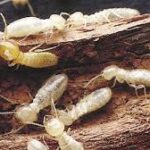 In Victoria, 1 in 3 houses will be affected by termites, resulting in millions of dollars damage every year.
A little-known fact is Termite damage is not covered by your home insurance policy.
However, Zeropest Australia' can give you peace of mind as our full Barrier Termidor Treatments come with a FREE $2 MILLION structural damage Assurance Warranty for your home!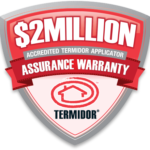 Quite often only Swarming termites, damage to garden sleepers, damage to pergola timbers, window sills, skirting boards, door frames are usually what you'll first notice as the true sign of a termite infestation.
Even steel-framed houses are not immune from termite attack, the termites can still get in and destroy wooden roof trusses, furniture and wood trim such as architraves.
Some species of timber are resistant to termites, but none is entirely 'termite-proof'.
Consumer Alert: Property enhancements, additions and alterations may have compromised previously installed termite protection and left you exposed.
There are several types of termites found in Australia, Termites can be grouped into three basic categories: dampwood, drywood and subterranean. Subterranean termites are the main threat to timber in buildings, which makes them a danger to the biggest investment you may ever make – your house.
The technicians at Zeropest Australia use the most advanced up to date termite detection technology available on the market to pinpoint a colony's location and eradicate it.
This advanced Zeropest Australia termite detection equipment includes but not limited to the termite detecting FLIR E53 advanced thermal imaging camera & Termatrac T3I Radar equipment that also contains moisture and thermal reading systems.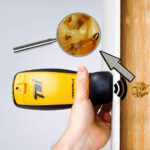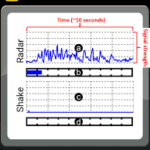 Termatrac T3I in use.                              Termite activity Shown at time of inspection on the Termatrac T3I & viewed by you on site live!
Termites can also be found by looking for nests, moisture sources, and evidence of damage in walls. When termites enter a home, they release heat from their digestive system in the form of carbon dioxide and construct mud tubes that have high moisture content, creating irregular heat patterns on the surface of walls, ceilings, and floors.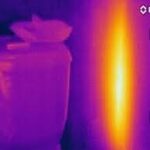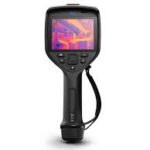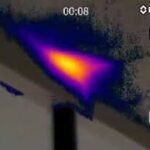 FLIR E53 advanced thermal imaging camera detecting live and active termites in a bathroom wall and lounge room ceiling.
WHAT TERMITES EAT
Like ants, termites have different forms that live in what is referred to a caste system. One of the more destructive termite castes is made up of workers that perform nest maintenance and forage for food. The workers are frequently found infesting - and ingesting - wood in homes, businesses, and other structures. While they primarily like to feed on wood, workers will also eat plants at any level of decomposition.
Termites live on cellulose, which is found in all plant material. Not all termites eat wood, but those that do can come to your home looking for food. They travel through the ground from a nest that may be hundreds of metres away, then they build mud tunnels into your house. They can squeeze through cracks the thickness of a piece of paper.
Additional items they can eat:
Paper
Books
Insulation
Plaster
Swimming Pool Liners
Water Filtration Systems
TERMITE REPRODUCTION
In addition to the soldier caste, which includes insects so specialized for protecting the colony they must be fed by workers, termite colonies have a reproductive caste consisting of a king and queen. One queen produces all of the eggs for a colony and mates with the king for life. With the queen capable of laying millions of eggs a year, extermination can require multiple treatments even when using the most effective termite control techniques.
KNOW YOUR TERMITE CONTROL OPTIONS
Zeropest Australia offers a large amount of information and treatment options. We use the latest state-of-the-art termite Termidor HE, Termidor Residual, Trelona ATBS extermination techniques to deal with wood-destroying termites. Since each home & property is different, we provide varying method types unique to your individual make up of your home & severity of termite infestation.
WHY YOU NEED A PROFESSIONAL EXTERMINATOR
While there are termite control products for sale to homeowners, completely eradicating a termite infestation can be a long, complicated process.
An experienced pest control company, like Zeropest Australia, is not only able to identify likely points where termites enter your home, but also has the specialized equipment & advanced training necessary to provide the most effective treatment options tailored to your individual situation.
CHEMICAL OR BAIT OPTIONS FOR TERMITE TREATMENT
Non-repellents such as Termidor HE, Termidor Residual, Trelon ATBS always active  bait stations are all part of the arsenal we have at our disposal. Once one of our certified professionals inspects your property, we figure out the best way to confront your termite swarm or infestation.
CREATING A BARRIER AROUND YOUR HOME 
Highly advanced Non-repellents used by Zeropest Australia such as Termidor HE, Termidor Residual, Trelon ATBS are applied to or inserted (Trelon ATBS) into the soil around your structure as a barrier.
Since they don't include a repellent, termites burrow into the treated area ( Eat always active bait if using Trelona ATBS stations ) and are killed by the chemical.
The termites spread the Termidor to other termites during regular physical contact, particularly when working together in close proximity, grooming and feeding the rest of the colony, a regular function of their daily life. Termites carry away or cannibalize other dead termites, further spreading the deadly effect of the Premise chemical throughout the colony.  
A crucial advantage of Zeropest Australia termite treatment using Termidor products over many other products is that it doesn't repel termites.
Termites are able to detect the older chemicals in the soil and stay away from them. That means the termites remain active and unaffected, still exploring the area and potentially looking for ways into your home.
Termites can't detect Termidor so, as they continue to forage through the soil, they unknowingly come into contact with Termidor.
Termidor kills termites through contact and ingestion.
Because they can't detect Termidor, termites are not aware of ingesting the product when they eat. They go about their routine activities and will still be killed by contact with Termidor even when they are not feeding.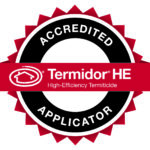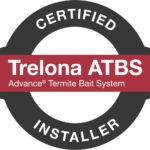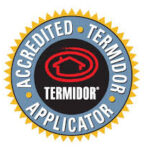 $300 OFF DISCOUNT NOW AVAILABLE FOR YOUR FULL BARRIER TERMITE TREATMENT WHEN TERMIDOR PRODUCTS USED!
This is method tends to be more successful in exterminating termites in one treatment (Trelon ATBS inserted into ground requires quarterly inspections ) .
Zeropest Australia has completed training and been certified by Termidor in how to apply their products, which allows us to provide the best options for eliminating termite infestations and preventing them from reinfecting your home.
We offer 
you the highest level of termite protection on paper as well as in the ground.
With
every full barrier Termidor treatment you receive the
Termidor
$2 MILLION ASSURANCE WARRANTY COMPLETELY 
FREE OF CHARGE!
The Termidor Assurance Warranty is unique.
It covers your home for structural damage up to $2 million. It also guarantees that your home has been treated by an accredited Zeropest Australia Termidor applicator using genuine Termidor – not one of the many inferior copies like unfortunately some other companies use .
All you have to do is register online once your Termidor barrier treatment has been completed, for full details and terms & conditions click on the following link - https://www.termidor.com.au/2-million-dollar-warranty/
Don't accept second best termicides when it come to exterminating or protecting your valuable home, demand the most advanced product available on the market today, Termidor!
See the complete list of  benefits below! 
No home or business is safe from termites!
The biggest problem with termites is that you usually don't see them or the damage they cause until it's too late. In fact, the annual cost of termite damage to buildings in the Australia is greater than that of fires, storms and floods combined.
Termites are extremely well organized and they can find a way inside any structure, regardless of its construction. That's why we offer advanced treatment methods for termite control and elimination.
Whether you own or occupy a single-family home, town House, multi-dwelling building, let us be your line of defense against termite invasions.
Zeropest Australia Termite Protection Plan covers  your home or office year-round with a detailed protection plan formulated after a thorough timber pest inspection of your property conducted to Australian standards .
If termites are found or if the risk is high, we will customize a termite protection proposal / program to fit your needs. Zeropest Australia detailed proposal / plan will consist of either or a combination of a termite monitoring system, a baiting system, and/or a liquid defense treatment.
Since termites can enter cracks as small as 1/32 inch (the width of a business card), continued monitoring and professional inspections are still essential to detect activity as soon as possible as recommended by the Australian standard, Zeropest Australia and Termidor ( BASF).
The cost of a termite barrier system depends on several factors, including
Can never be quoted over the phone as every situation is unique.
The type of barrier chosen (physical or chemical treatment and the materials used for each),
The size of the treatment area.
Soil Type.
B

uilding Type.

Whether your home is pre - or post-construction. 
Signs of current termite activity. 
Signs of past or current termite infestations.  
To ensure the effectiveness of your treatment, contact Zeropest Australia to explain what activities might affect the product's concentration. For example, how would landscaping activities affect the protection and how long is the termicide active?
The cost of a termite barrier system depends on several factors, including
The type of barrier chosen (physical or chemical treatment and the materials used for each),
The size of the treatment area.
S

o

il Type.
B

uilding Type.

Whether your home is pre- or post-construction and
Signs of current termite activity.
Signs of past or current termite infestations.
If you are building a new home or completed any property enhancements, additions or alterations you should consult with Zeropest Australia to understand all of your termite prevention options.
There are a number of termite prevention options and products that can be built into a home that is under construction or post-construction.
If you are already living in your home.
Before you do anything!
Lets see if you have any termites first, then come up with your extermination plan!! 
If your home has already been built it will required a full termite inspection prior to any preventative measures being considered to determine if you have any current termite activity.
We will then issue a full digital report detailing our findings and create a customised proposal treatment plan if required tailored to your individual home's needs, and list quoted recommendations regarding preventative termite measure as NO two homes are the same! 
Zeropest Australia will supply the latest methods & most advanced Termite products & systems on the market by Termidor being preferred Termicide & system provider,  anything less is a waste of your money and time!
Don't accept second class generic termicides when it come to exterminating or protecting your valuable home, demand the best product - Termidor!
It is our opinion that Termidor products are far superior to other generic products available in the market due to the following reasons.
Why choose Termidor HE?
Termidor® HE Residual Termiticide now available in Australia, provides a more even stable treated zone. Termidor HE allows on average 30% less trenching, less than half the drilling, less visual impact such as unsightly drill hole marks, garden disturbance resulting in and providing increased customer satisfaction.
- Termidor HE gives your Accredited Zeropest Australia Applicator more flexibility to provide a superior treatment without cutting corners, disturbing the structure or damaging the aesthetics of your home.
- Termidor HE provides increased movement through soil, resulting in less drill holes especially in those tiled areas allowing your technician to drill into the mortar line in between.
. Termidor has been used in over 2 million homes in the USA and over 15,000 buildings in Australia since its introduction in 2002
Why choose Termidor?
- Termidor will not repel termites and therefore they cannot avoid the treatment
- Termidor will prevent concealed termite entry to structures for aminimum of 8 years for all termite species - a claim no other termite control product can make
- Termidor is fast - on average termite activity was eliminated within 4.3 weeks in Australian trials
- Termidor is less water-soluble and binds more tightly to organic matter in soil than other non-repellent termiticides (this means it stays where it is applied)
- Termidor has no effect on soil micro-organisms, earthworms or plants protecting the ECO system.
Why Choose Trelona?
BASF's new Advance® Termite Bait System (ATBS) with Trelona® Termite Bait sets a new benchmark in termite baiting for the Australian market. Powered by a novel active ingredient 'Novaluron', Trelona requires much less bait for complete colony elimination to be achieved when compared to other termite baits.
Trelona ATBS may also be used in combination with BASFs industry leading termiticides, Termidor® Residual Termiticide and Insecticide and Termidor® HE Residual Termiticide so a complete management system can be tailored for any situation.
Trelona ATBS and Termidor brands are supported by BASF, the leaders in termite control since the launch of Termidor in 2002.
Read more about Trelona at  https://www.termidor.com.au/trelona-atbs-revolution-termite-baiting-technology/
To schedule an appointment.
Call Zeropest Australia NOW!
1800 38 66 55 
Zeropest Australia back all of our pest control services with the best guarantee's in Australia because our Pest Control Technicians are highly qualified and only use the most effective pest control products on the market designed to eliminate many different pests in just minutes with no bothersome odour or damage.
Naturally, if you select an additional pest service and we complete the service on the same we will discount the additional service substantially.