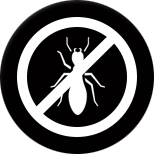 Zeropest Australia's Termite barrier systems are designed to help keep termites out of your home by reducing entry points or using products to control active termite colonies. Some termite barriers are installed during the pre-construction process, while others can be used in post-construction. Termite barriers come in a wide variety of forms. Physical, non-chemical barriers include sand and basaltic particle barriers, as well as stainless steel mesh barriers. Chemical versions include soil treatments and plastic barriers that are treated with termicide.
Physical, non-chemical termite barriers are designed to prevent termites from accessing specific areas of the home where they might try to enter undetected, or at least force them to make their activity more visible. Since termites can enter cracks as small as 1/32 inch (the width of a business card), continued monitoring and professional inspections are still essential to detect activity as soon as possible. Soil treatments with termides provide effective control of current and future colonies, when applied properly.
To ensure the effectiveness of your treatment, contact Zeropest Australia to explain what activities might affect the product's concentration. For example, how would landscaping activities affect the protection and how long is the termicide active?
The cost of a termite barrier system depends on several factors, including
The type of barrier chosen (physical or chemical treatment and the materials used for each),
The size of the treatment area.
S

o

il Type.
B

uilding Type.

Whether your home is pre- or post-construction and
Signs of current termite activity.
Signs of past or current termite infestations.
If you are building a new home, you should consult with Zeropest Australia to understand all of your termite prevention options.
There are a number of termite prevention options and products that can be built into a home that is under construction or post-construction.
If you are already living in your home.
Before you do anything, lets see if you have any first then come up with a contingency plan!! 
Post Construction Homes Zeropest Australia will be required to conduct a full termite inspection prior to any preventative measures being considered to determine if you have any termite activity.
W will then issue a full digital report detailing our findings, required treatment/s if any required and create a customised treatment plan if required tailored to your individual home's needs, and list quoted recommendations regarding preventative termite measure as NO two homes are the same!
Zeropest Australia's Termite Treatment Recommendation:   Termites by nature have a central colony nest containing a king and queen - soldiers escort hundreds of thousands of workers as they tunnel through soil a 100-metre radius of the nest and build mud-tube galleries over hard objects and between timber joints to keep airtight conditions. Termites must return to the central colony every few days to feed the colony (liquefied timber) including the queen, king, young nymphs, soldiers, winged reproductives.   Termidor termicide as solely used by Zeropest Australia is highly recommended due to its deadly delayed non-repellent effect.  Termites travelling through treated soil areas will collect and transport the chemical back to the central colony nest to feed others therein, Highly effective to kill all the termites in a colony.  
This Termidor termite treatment investment depends on your home size, building type, soil type and many other factors with varying costs.
THE INSTALLATION OF A CHEMICAL SOIL BARRIER requires expert Zeropest Australia knowledge and equipment to form a complete and continuous barrier around building, period of protection is 10 years. ( Not 3 Like most!) Special care and equipment will be used to detect sub-nests in the building including a  T3i Termatrac moisture meter, Sonar, microwave and Thermal infrared Flir cameras.
Termite Protection System, Zeropest Australia Recommendation for post-construction applications on an average job site ( Methods / recommendations will change, can change or may change subject to site inspection, conditions or building type):   Trench ( 150mm wide x 350mm below the top of footing ) and treat soil around external concrete slab edge - a common termite entry point. Trench and treat soil around walls and piers in the sub-floor area. Use rod injection to treat soil along and around the external perimeter area of the building. Drill concrete floor along all expansion joints and cracks, and treat soil there under. Drill concrete floor around pipes and treat soil there under. Drill concrete patio areas and treat soil area therein - a high-risk termite nest location. Drill concrete drive and paths and treat soil there under. Drill hole spacing every 150mm and or 36 holes per square meter - 1.5L per hole. Remove and replace garden stones and obstacles as required.   Termidor is the safer most effective alternative, it is water-based, has virtually no smell and of ultra-low hazard to humans, dogs, cats and other mammals. Termidor is manufactured by BASF, Termidor does NOT have an obnoxious odour or emit airborne residues or fumes. Termidor is registered as a low hazard insecticide with a CAUTION notation on the registered label. Fipronil, the active ingredient in Termidor, has been used in the USA, Australia and other countries, for flea and tick control on millions of cats and dogs. Termidor represents the state of the art modern technology. Some alternative termicides used by other companies have only a strong repellent action only to deter foraging termites. Whereas Termidor is a non-repellent to the termites, termites can enter the treated soil zone without detecting the Termidor chemical, the repellent nature of other products mean the termites can detect the chemical and will move along the treated soil areas, actively seeking a gap to gain entry into the building.   Termidor will act to kill termites, in the higher concentration treated soil areas abutting the building, termites that forage in the lower concentrated treated soil areas, will become disorientated, stop feeding, and are fatally diseased by natural fungi and micro-organisms in the soil. Termidor will transfer from one affected termite to another ... the technology aimed at eradicating the queen termite and the entire colony.  Termites tunneling in the Termidor treated soil area abutting the building (of high concentration - near the point of application) are killed outright. Termites tunneling in the outer parts of a Premise treated soil area (of low concentration) will not detect the Premise which adheres to their bodies and has a delayed lethal effect of several days - enough time to be transferred back to the central colony nest. After 250 million years of living underground, subterranean termites have evolved with a very thin waxy skin (called an exoskeleton) that readily absorbs moisture. Premise adheres to the termite exoskeleton and is readily adsorbed through the exoskeleton and into the termite's body to immobilize and kill the affected termite within a few days. The termites spread the Termidor to other termites during regular physical contact, particularly when working together in close proximity, grooming and feeding the rest of the colony, a regular function of their daily life. Termites carry away or cannibalize other dead termites, further spreading the deadly effect of the Premise chemical throughout the colony.  
Basically, this is the method and the only one I recommend post construction to prevent and eradicate all termite activity; it is the same method that I have implemented in my home!
Best Method & best Termicide on the market, anything less is a waste of your money and time! Don't be fooled by unscrupulous person's claiming there is a quick around or under the home spray treatment.
It doesn't exist!! Termites are not active on top of finished soil levels as they are a subterranean species, surface spraying will not penertrate the sub soil to the levels required 300 mm depth to effect the active termites!
Zeropest Australia back all of our pest control services with the best guarantee's in Australia because our Pest Control Technicians are highly qualified and only use the most effective pest control products on the market designed to eliminate many different pests in just minutes with no bothersome odour or damage.
Consumer Alert: Property enhancements, additions and alterations may have compromised previously installed termite protection and left you exposed.
Call Zeropest Australia NOW! 1800 38 66 55
Naturally, if you select an additional pest service and we complete the service on the same we will discount the additional service substantially.