All About Spider Control Melbourne
Spiders are a diverse group of arthropods found throughout the world. Some species are tiny, while others are very large. Although most common house spiders are harmless, Red back spider and Funnel Web spiders are two common venomous types in the Australia.
BASIC BIOLOGY OF SPIDERS
Spiders are voracious predators, feeding on insects, other spiders and even small mammals and reptiles.
They differ from insects in that they have two, rather than three, body regions. These two regions are the cephalothorax – which contains the eyes, mouthparts and legs – and the abdomen.
Spiders have four pairs of legs, while insects have three pairs of legs. They possess modified appendages called pedipalps located in the front by the mouth, which in some species resemble an extra set of legs.
Most spiders have eight simple eyes located on the front of the cephalothorax, but some spiders have fewer eyes. The arrangement of these eyes is often used to distinguish between various species of spiders.
The abdomen is unsegmented and contains the genital structures, spiracles and the spinnerets used to spin silk.
Many types of spiders spin some type of web, and the shape or type of web is often as distinctive as the spider itself. Other spiders are active hunters that move about looking for prey, but they do not spin webs.
AVOIDING BITES
If your home has a White Tale infestation, Red Back or Funnel Web you can reduce the chances of bites by following these recommendations:
Clothing can be stored in sealed plastic bags inside drawers or inside plastic storage compartments hanging in closets. Shoes can be stored inside plastic shoe boxes.
Clothes that have been left on the floor, in a clothing basket or are otherwise exposed should always be shaken well and inspected before being put on.
Beds should be moved out so they do not touch walls or curtains. Bed skirts around the box springs should be removed from beds, and bedspreads coming near or touching the floor should not be used.
HOW TO GET RID OF SPIDERS
Some spiders may be harbouring outdoors in piles of firewood, garden sheds, children play equipment, cubby houses and debris, under items lying on the ground or in voids in hollow blocks, while others may live in attics and roof voids or other areas throughout the home. A thorough, professional inspection from Zeropest Australia will reveal these hiding spots and help eliminate spiders from your home.
Our perimeter and internal general pest control spray ( GPS ) and dusting treatment from Zeropest Australia acts as an invisible barrier around and in your home from pests such as, Webbing Spiders, Garden Cockroaches, Flea's, Ants, Carpet Beetles, Silverfish, Clothes Moth, Millipedes, Hide Beetles and earwigs. The exterior of your home is surrounded with an uninterrupted band of protection, forming a barrier against unwanted pests GUARANTEED FOR 12 MONTHS!.
Zeropest Australia will also treat your garden, fences, garage, roof void, power meter Box, Letter Box, rubbish bins, shed, subfloor, and yards to further protect you and your home from unwanted pests.
The interior of your home is also sprayed including all room skirting boards including 30cm of adjoining floor coverings, ceiling cornices, around window frames, heating ducts, cooling ducts, under and around appliances, around kitchen cupboards, in wardrobes if emptied, floor / ceiling vents and the roof void is dusted.
The insecticides used are derived from the bud of the white chrysanthemum flower, natural, effective, safe and AQUIS approved.
Our comprehensive perimeter and interior treatment gets rid of troublesome pests fast, and you won't see a trace of them for a long time after the treatment,
AUSTRALIA'S ONLY GENUINE
100% 12 MONTH PEST FREE GUARANTEE*
& 100% SATISFACTION GUARANTEE*.
That's because we use highly effective pest control products designed to eliminate many different pests in just minutes with no bothersome odour or damage.
Our spray is SAFE, NATURAL, EFFECTIVE and AQUIS approved.
Common Types of Victorian Spiders: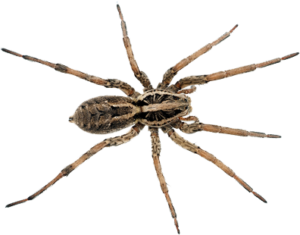 Wolf Spider
Lycosa (species)
Family: Lycosidae
Bite:
There are no records of any serious symptoms resulting from wolf spider bites in Australia. Symptoms include local pain and swelling.
Colour:
Male: Similar to female.
Female: Brown to greyish brown, cephalothorax often with paler radiating pattern, abdomen often with foliate or ribbed pattern above and black patch below.
Body Length:
Male: Up to 25mm
Female: Up to 25mm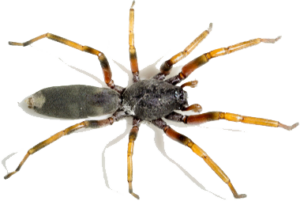 White-Tailed Spider
Lampona cylindrata
Family: Lamponidae
Colour:
Male: Similar to female but with two pairs of pale spots always present on the abdomen and a dark, oval plate toward front of abdomen on upper side.
Female: Body dark grey, legs with reddish brown tinge, abdomen with dull white patch at tip and sometimes with more or less distinct, paired, pale spots on the middle of the abdomen.
Body:
Body cylindrical, often described as cigar-shaped, front two pairs of legs directed forward.
Body Length:
Male: 12mm
Female: 20mm
Bite:
Bites by this spider are relatively frequent due to its wandering habit. Symptoms range from no reaction to swelling and local blistering at the bite site and nausea. The white tailed spider has been suggested as a culprit in rare cases of large scale necrotic lesions but there is little supporting evidence.
Victorian Funnel-web Spider
Hadronyche modesta
Family: Hexathelidae
Colour:
Male: Similar to female, though cephalothorax and legs often with a polished lustre.
Female: Cephalothorax and legs shining black, abdomen dark brown to black.
Body:
Similar in form to Trap-door spider except generally smaller in overall body size and darker in colour.
Body Length:
Male: 20mm
Female: 30mm
Bite:
Despite being a relative of the Sydney funnel-web spider, the venom is only known to cause general symptoms such as headaches and nausea.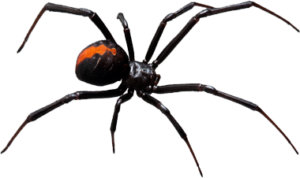 Red-back Spider
Latrodectus hasseltii
Family: Theridiidae
Colour:
Male: Usually without red markings. Body light brown with white markings on upperside of abdomen, and pale hour-glass marking on underside.
Female: Body and legs dark brown to black. Characteristic red hour-glass marking on underside of abdomen, usually also with broad, red stripe on upperside of rear half of abdomen; red stripe sometimes broken. Juveniles recognised by white markings on abdomen.
Body:
Characteristic pea-shaped abdomen, long slender legs, males much smaller than females.
Body Length:
Male: 4mm
Female: 10mm
Bite:
The bite is highly venomous and characterised by intense localised pain and around the bite site. Other symptoms may include sweating, muscular weakness, loss of coordination and, in severe cases nausea, vomiting, convulsions, etc.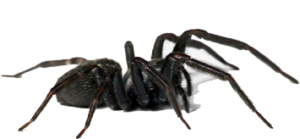 Black House Spider
Badumna insignis
Family: Desidae
Colour:
Male: Similar to female but often slightly paler.
Female: Cephalothorax and legs shiny black, abdomen duller black or grey-black.
Body:
Robust, hairy spider with a typically blunt, square front end of the cephalothorax.
Body Length:
Male: 10mm
Female: 20mm
Bite:
Because of its timid nature this spider rarely bites humans; however, the bite can cause general symptoms including nausea, sweating, localised pain and swelling.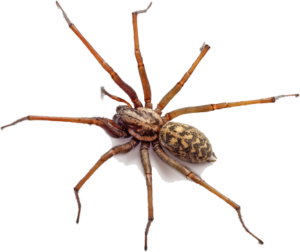 Brown House Spider
Steatoda grossa
Family: Theridiidae
Colour:
Male: Smaller-bodied with longer legs; similar colours to female except white markings more prominent.
Female: Overall body colour is brown to black, typically with a dull white crescent-shaped marking on top of the abdomen, sometimes followed by several dull white spots.
Form:
Similar in shape to the red-back spider, with pea-shaped abdomen and slender legs.
Body Length:
Male: 4mm
Female: 10mm
Bite:
Unlike the red-back spider the bite of the brown house spider is not lethal, but may cause headaches or nausea. Small blisters may occur around the bite site.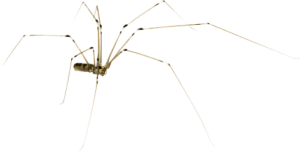 Daddy Long-Leg Spider
Pholcus phalangioides
Family: Pholcidae
Colour:
Male: Similar to female.
Female: Overall body colour pale brown to cream with darker markings on legs and cephalothorax, sometimes with darker markings on abdomen.
Body:
Recognised by its extremely long and slender legs and relatively small body.
Body Length:
Male: 16mm
Female: 20mm
Bite:
Relatively harmless; local reaction if any. Folklore has it that the venom of this spider is extremely venomous.
Huntsman Spider
Holconia immanis
Family: Sparassidea
Colour:
Male: Similar to female.
Female: Brown to grey with several pairs of darker spots on upper side of abdomen, sometimes with dark bands on legs.
Form:
Body very flattened with long, rather forwardly directed legs. The first two pairs of legs are longer than the second two pairs.
Body Length:
Male: 25mm
Female: 40mm
Web type:
Does not build a web.
Bite:
This is a timid spider and bites are infrequent. Symptoms are minor, including local pain and swelling.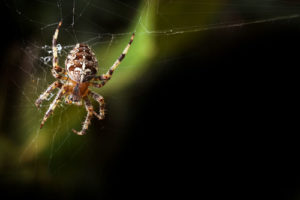 Garden Orb-weaving Spider
Eriophora biapicata
Family: Araneidae
Colour:
Male: Similar to female.
Female: Bases of legs bright red, rest of legs and cephalothorax reddish brown with long white hairs. Abdomen brown, usually with darker foliate pattern and sometimes with white spots or stripe.
Body:
Typically with a triangular abdomen with two noticeable humps towards front.
Body Length:
Male: 18mm
Female: 22mm
Bite:
The bite of the garden orb-weaver is not considered dangerous. Symptoms may include localised mild pain and swelling, nausea and dizziness.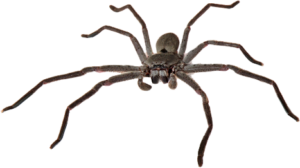 Badge (Huntsman) Spider
Neosparassus diana
Family: Sparassidae
Colour:
Male: Similar to female.
Female: Fawn to orange or pinkish brown. Black shield shaped marking with two white spots on underside of abdomen.
Body:
Body flattened, though less so than other huntsman groups. First two pairs of legs distinctly longer than hind two pairs.
Body Length:
Male: 16mm
Female: 20mm
Bite:
No serious symptoms have been recorded from the bite of N. Diana.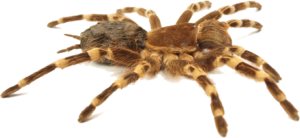 Melbourne Trap-door Spider
Stanwellia grisea
Family: Nemesiidae
Colour:
Male: Similar to female except that some specimens have golden hairs on the cephalothorax.
Female: Cephalothorax and legs brown, abdomen often paler with dark, mottled, rib-like pattern on upper surface.
Body:
Large robust spiders, males are generally smaller-bodied and longer-legged than females.
Body Length:
Male: 25mm
Female: 35mm
Bite:
Due the size of the fangs, the trap-door spider can inflict a deep, painful wound, but, the venom is not known to cause medical problems. The two large appendages on the tail of the spider are spinnerets, on which the silk glands open.