Zeropest Australia can provide your home or business with a fast, safe, ethical and eco – friendly possum removal program. We will solve your possum problem, Zeropest Australai will provide a full inspection of your house or business to identify entry points, provide a quotation if works scope exceeds our standard job rate*, sealing of possum entry point ( 1 entry point repaired in standard job rate ), installation of one way door to area near active entry point ( in place for a minimum of 4 Days ) return visit to remove door, and provide AUSTRALIA'S ONLY GENUINE! 12 MONTH PEST FREE GUARANTEE*. Our eco-friendly service is the responsible and sustainable way to remove possums from your home permanently GUARANTEED*!
Possum entry point picture, note the dirty oil marks above leading into entry point hole.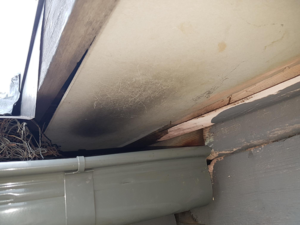 NOTE: Possums, both Ringtail, and Brushtail are a protected species

in Melbourne under the Wildlife Act 1975.
Zeropest Australia removes possums out of your home and roof without cages. This results in us causing no harm to the possum and allows them to leave without stress. We use an eco-friendly one way exit door to allow them to leave and move on naturally. Dead animal Carcass removal also available.
Call Zeropest Australia today for fast, effective pest and possum removal with the help of our expert possum technicians, call Zeropest Australia now HOTLINE:
Call Zeropest Australia NOW! 1800 38 66 55.