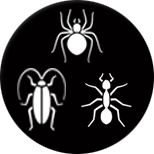 Zeropest Australia can help you achieve fast, efficient Ant, Garden Cockroach and spider pest treatment. To get rid of Spiders, Ants and garden cockroaches (Does Not Include German Cockroaches), it is important to identify the species before attempting to remove or control them. Zeropest Australia's technicians have the experience to correctly identify your pest, remove or treat them in the appropriate manner. 100% PEST FREE GUARANTEED* & 100% SATISFACTION GUARANTEED*. Zeropest Australia's technicians have at their disposal an arsenal of treatments that remain long after our departure. Our perimeter and internal general pest control spray Biflex Ultra ( GPS ) and dusting treatment (Starrdust®PRO) from Zeropest Australia acts as an invisible barrier around and in your home, it treats all of the following pests, Webbing Spiders, White Tails, Garden Cockroaches, Flea's, Ants, Carpet Beetles, Silverfish, Clothes Moth, Millipedes, Hide Beetles, woodlice, clothes moths and earwigs. The entire exterior of your home is sprayed and surrounded with an uninterrupted band of residual protection, forming a barrier against unwanted pests GUARANTEED FOR 12 MONTHS! The treatment area's sprayed and dusted include gutters, eaves, window frames, shed, garage, decking, pergolas, cubby house, clothes line, subfloor void, roof void, letter box, rubbish bins, meter box, letter box, fence line, garden hedges, cracks, crevices, retaining walls, pipe penetration holes, ceiling cornices, heating ducts, cooling ducts, under and around appliances, around kitchen cupboards, in wardrobes if emptied, floor / ceiling vents with the roof void being dusted. Zeropest Australia's technician will identify the most appropriate method to treat your particular rodent problem. We have at our disposal an arsenal of treatments that remain long after our departure. Our service includes a full photographic pre-inspection of your entire home both internally and externally to determine the species of pests and to determine all potential entry point's that pests are utilising to currently enter your home, this includes inspecting all areas of the home internally and externally. As a result of this process we will determine the most effective measures of treatment according to your particular circumstances, inspection and treatment will on average take approximately 1.5 hours to complete. After internal treatment has been completed the re-entry period is a minimum of four hours and applies also to animals and pets in general.   Naturally all treatments utilised are evaluated based on your specific needs and circumstances, all treatments are naturally safe, environmentally safe and AQUAS approved.   Zeropest Australia's liquid surface spray (Biflex Ultra) is derived from the bud of the white chrysanthemum flower, natural, effective, safe and AQUIS approved.  Its unique EC formulation is non-staining, practically odourless, non-sensitizing and non-allergenic giving user and client comfort without sacrificing efficiency or longevity. It provides a long term residual control with the rapid kill knockdown expected by you the customer. Zeropest Australia's DUSTING treatment Starrdust®PRO contains insect growth regulators ( IGR ), this dust as used by Zeropest Australia is the only dust in the world containing insect growth regulators. Starrdust®PRO is revolutionary in pest management because it combines a powerful knockdown (Instant Kill) adulticide as well as a long lasting IGR larvacide, providing long term residual control preventing reinfestation whilst ensuring the rapid kill knockdown effect. Zeropest Australia's Gel bait treatments Optigard® Ant gel bait and Advion® Ant gel, powered by the active ingredient thiamethoxam and Indoxacarb, offers unparalleled control of a broad spectrum of ants, containing the most preferred ant bait matrix in the industry. These baits offers unparalleled control of a broad spectrum of ants, including Argentine, carpenter, ghost and other nuisance ant species.   Zeropest Australia also use the liquid surface spray Termidor® termiticide/insecticide, ants require separate and different application to control. Termidor® termiticide/insecticide is a non-repellent effective in controlling carpenter ants (which can cause severe damage to the wood in your home), household ants, black ants, and other ant species.   Chances are, ants, and some of the other pests in your home, actually live in nests outside. The key to getting rid of ants is to target them where they live. By applying Termidor to the outside exterior of your house, Zeropest Australia creates a residual treated area of protection. Ants pick up Termidor as they travel to and from your home and then spread it to other ants in their colony.  Termidor is unique because it controls ants through direct and indirect contact with its active ingredient. Ants need only make contact with other ants that have been exposed to Termidor. This "Transfer Effect" means you'll see Termidor affecting ants in one to three days and most species will be controlled within the first week following the treatment.
AUSTRALIA'S ONLY GENUINE!
100% 12 MONTH PEST FREE GUARANTEE*
& 100% SATISFACTION GUARANTEE*.
Zeropest Australia back all of our pest control services with the best guarantee's in Victoria because our Pest Control Technicians are highly qualified and only use the most effective pest control products on the market designed to eliminate many different pests in just minutes with no bothersome odour or damage.
Call Zeropest Australia NOW! 1800 38 66 55
Naturally, if you select an additional pest service and we complete the service on the same we will discount the additional service substantially.