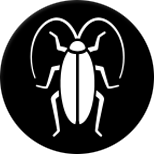 Zeropest Australia can help you achieve fast, efficient cockroach control. Effective insecticide treatments include surface sprays and insecticidal gel baits, surface sprays, can be applied in and around cockroach harbourages, and along routes where cockroaches typically travel. The treatment area's sprayed, baited, dusted and treated depending on species include sheds, garage, decking, pergolas, subfloor void, roof void, garden hedges, cracks, crevices, retaining walls, pipe penetration holes, under and around appliances, around, inside and under kitchen cupboards, behind obstacles, window frames, in wardrobes if emptied, walls, in and around electrical appliances, electrical appliance motors, fridges, freezers, dishwashers,   The liquid insecticide spray as used by Zeropest Australia (Biflex Ultra) is derived from the bud of the white chrysanthemum flower, natural, effective, safe and AQUIS approved.  It's unique EC formulation is non-staining, practically odourless, non-sensitizing and non-allergenic giving user and client comfort without After internal treatment has been completed the pesticide and treated area/s is completely safe upon drying usually 2 hours for adults, 4 Hours for children and pets. For indoor infestations, Zeropest Australia use a bait Gel as it is safe, discrete, highly effective and easy to apply and has no odour. The Gel baits as used by Zeropest Australia are Goliath® Gel 4 x 35 g Contains 0.053 % w/w (0.53 g/kg) fipronil.  A ready to use insecticidal gel bait for the control of German cockroaches (Blattella germanica) or Advion® Cockroach gel bait as both are high-performing products targeting all prevailing pest species of cockroaches. They combine a highly attractive, proprietary gel formulation with a potent, non-repellent active ingredient. Cockroaches cannot resist this superior combination, and even the toughest populations are quickly controlled, they can be used safely on all sensitive commercial, residential and industrial sites. Dust as used by Zeropest Australia (Starrdust®PRO) contains insect growth regulators ( IGR ), this dust as used by Zeropest Australia is the only dust in the world containing an insect growth regulators. Starrdust®PRO is revolutionary in pest management because it combines a powerful knockdown adulticide as well as a long lasting IGR larvacide, providing long term control and the rapid knockdown expected by you the customer. Our comprehensive perimeter and interior treatment will be tailored to your individual needs getting rid of your troublesome pests fast, and you won't see a trace of them for a long time after the treatment, due to the residual barrier that is left behind, providing a fast knockdown and long-term ongoing pest control! As a result of this process we will determine the most effective measures of treatment according to your particular circumstances, inspection and treatment will on average take approximately 1.5 hours to complete.
AUSTRALIA'S ONLY GENUINE!
100% 12 MONTH PEST FREE GUARANTEE*
& 100% SATISFACTION GUARANTEE*.
Zeropest Australia back all of our pest control services with the best guarantee's in Victoria because our Pest Control Technicians are highly qualified and only use the most effective pest control products on the market designed to eliminate many different pests in just minutes with no bothersome odour or damage.
Call Zeropest Australia NOW! 1800 38 66 55
Naturally, if you select an additional pest service and we complete the service on the same we will discount the additional service substantially.